Unfortunately reservations is currently unavailable. Please try again later.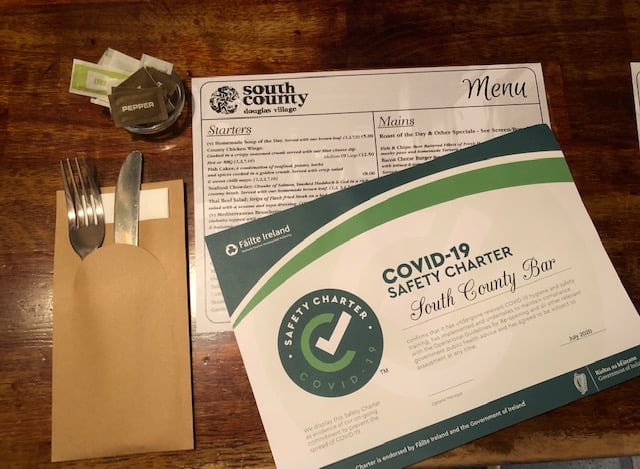 We are delighted to be re-opening on December 4th!
We look forward to welcoming you all back to the South County Bar for food & drinks in a safe environment.
Traditional, turn of the century style with flagstone floors and dark timber the South County has the look and feel of a 'real Irish pub'. - great outdoor area too and lots of nooks and corners to relax - good food & drinks everyday
We are situated in Douglas Village which is a busy shopping suburb located only three miles from Cork city centre. The South County serves breakfast, lunch & dinner daily. Bia, deoch, ceoil agus caint.
The South County Bar in Douglas, Cork is a traditional Irish pub in every sense, with 'Live' Traditional Irish Music sessions 4 nights a week, home cooked lunches and great value evening meals. Unfortunately, we are not featuring any live music sessions at the moment.

---
Trad Sessions

Live trad sessions 4 nights a week - unfortunately, we aren't doing trad sessions currently but look forward to those times returning again soon...

View Our Entertainment
Discover Ireland Tours
For 29 years, My Ireland Tours have been designing & operating the finest Irekand tours for all groups, interests and budgets. Click on the link to read more !
Discover Ireland Tours!
Address:
West Village, Douglas, Cork
---
Opening Times
Sunday
11:00-20:00
Monday
09:00-20:00
Tuesday
09:00-20:00
Wednesday
09:00-20:00
Thursday
09:00-20:00
Friday
09:00-20:00
Saturday
10:00-20:00
Directions To {{selectedLocationTitle}} Location
Patricia Treacy travelling to D.C to perform at the inauguration today. What a fine ambassador from Ireland ! -She… https://t.co/uTA9AZpUsr

— The South County (@SouthCountyBar) January 20, 2021
He waited last minute but The Donald finally makes a ground breaking order ! https://t.co/Vm5jwzL6MX

— The South County (@SouthCountyBar) January 20, 2021
Better days are on their way, but for now, stay home & stay safe ! 😉❤️ #bebacksoon 🤞 #FlattenTheCurve https://t.co/EliHEcubtb

— The South County (@SouthCountyBar) January 18, 2021