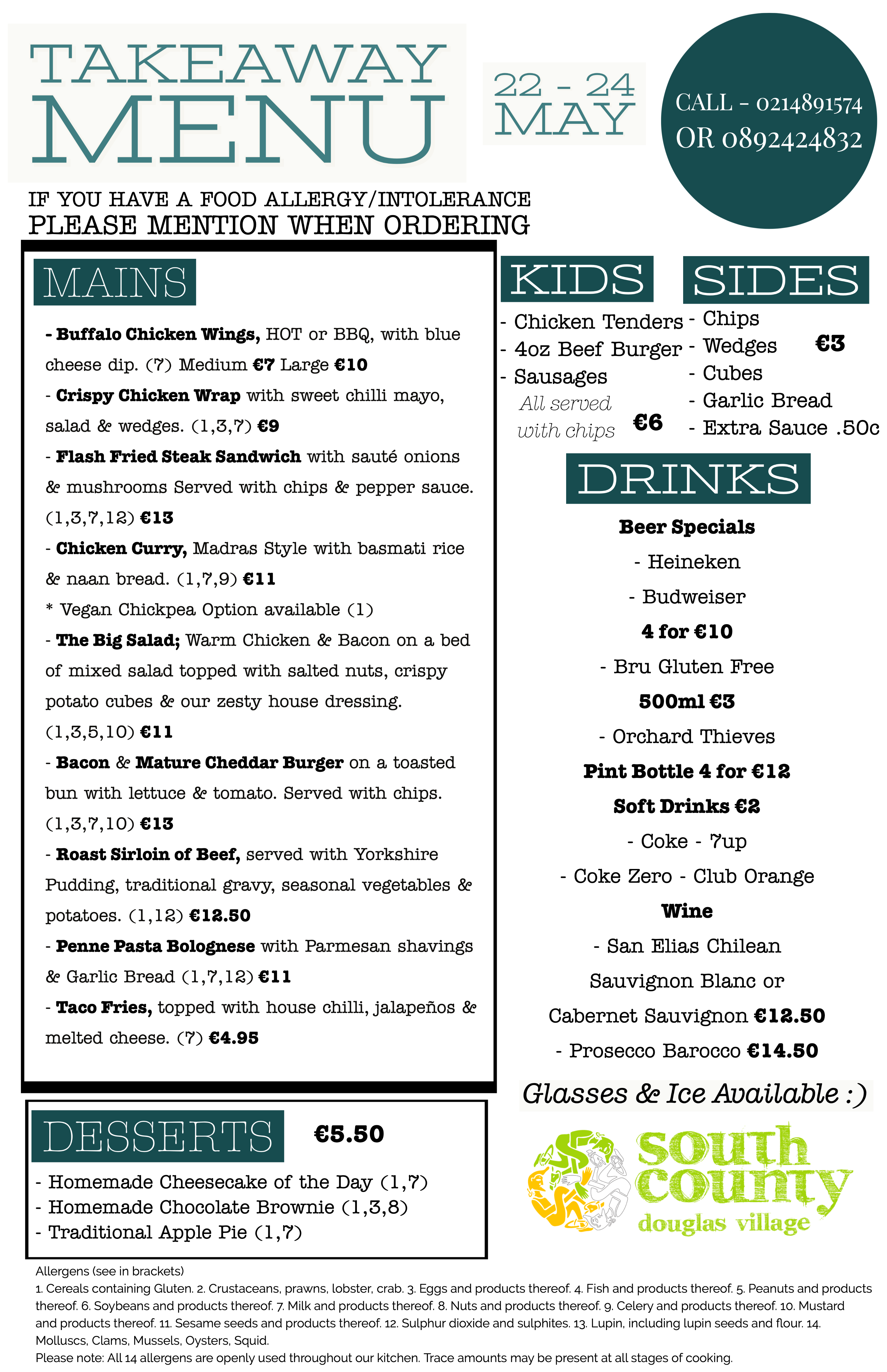 As we are temporarily closed... we have launched an exciting new Takeaway menu. Please click on the link in the yellow banner above to view our 'Call & Collect' Menus
Available Friday & Saturday 4-8pm, Sunday 1-6pm
Call us on 0214891574 or 0892424832
Designed in a traditional, turn of the century style with flagstone floors and dark timber the South County has the look and feel of a 'real Irish pub'......
The pub boasts some great features such as a cozy outdoor/beer garden with open fires and TV's, a private snug and great unique sections in the bar that can be reserved for that special party or any informal gathering. We serve good value lunches every day and evening meals Monday to Friday. We have a great selection of Irish whiskies from Midleton and new Irish craft beers.We are the only pub in Cork with Irish music sessions four nights a week throughout the year.
We are situated in Douglas Village which is a busy shopping suburb located only three miles from Cork city centre. For visitors to the beautiful city of Cork, Douglas is en route to the Ringaskiddy car ferry and Cork airport.
The South County is the ideal place to drop in for food, drinks, music and some friendly conversation.
Bia, deoch, ceoil agus caint. ~ Food, drink, music and conversation :)
---
Discover Ireland Tours
For 29 years, My Ireland Tours have been designing & operating the finest Irekand tours for all groups, interests and budgets. Click on the link to read more !
Discover Ireland Tours!
Address:
West Village, Douglas, Cork
---
Opening Times
Sunday
11:00-Til Late
Monday
09:00-Til Late
Tuesday
09:00-Til Late
Wednesday
09:00-Til Late
Thursday
09:00-Til Late
Friday
09:00-Til Late
Saturday
11:00-Til Late
Directions To {{selectedLocationTitle}} Location
Great to have The English Market open. Call in today and support Irish products & local business...🍽️☀️🙂 https://t.co/clWmDIEdq0

— The South County (@SouthCountyBar) May 26, 2020
Check out this series of interviews with Tomás O' Sé and some great sporting guests. Last night Tomás spoke to lege… https://t.co/8yYsEm5ue0

— The South County (@SouthCountyBar) May 26, 2020
some man to eat …..😄 https://t.co/gMKdWKdAM1

— The South County (@SouthCountyBar) May 26, 2020