Unfortunately reservations is currently unavailable. Please try again later.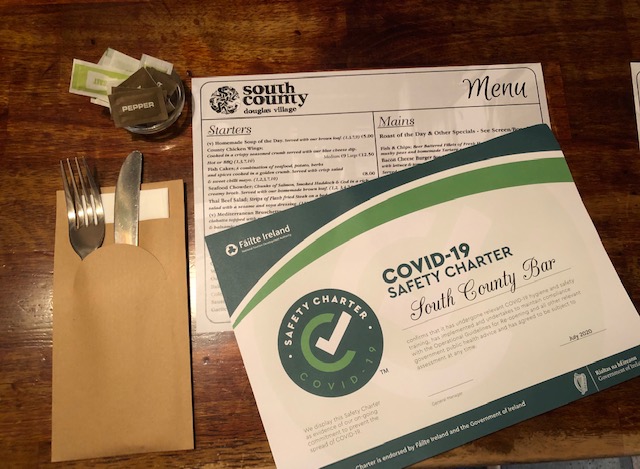 We are delighted to be back and look forward to seeing you all again soon and we would also like to re-assure all our customers that we have installed new Safety and Cleaning guidleines to protect you and our staff.
We have also just completed the Covid-19 Safety Charter for Tourism and Hospitality Businesses training in conjunction with Failte Ireland.

The South County Bar in Douglas, Cork is a traditional Irish pub in every sense, with 'Live' Traditional Irish Music sessions 4 nights a week, home cooked lunches and great value evening meals. Unfortunately, we are not featuring any live music sessions at the moment.

---
Trad Sessions

Live trad sessions 4 nights a week - unfortunately, we aren't doing trad sessions currently but look forward to those times returning again soon...

View Our Entertainment
Discover Ireland Tours
For 29 years, My Ireland Tours have been designing & operating the finest Irekand tours for all groups, interests and budgets. Click on the link to read more !
Discover Ireland Tours!
Address:
West Village, Douglas, Cork
---
Opening Times
Sunday
11:00-20:30
Monday
09:00-20:30
Tuesday
09:00-20:30
Wednesday
09:00-20:30
Thursday
09:00-20:30
Friday
09:00-20:30
Saturday
10:00-20:30
Directions To {{selectedLocationTitle}} Location
Maith an fear !! https://t.co/GnkrbdtH3l

— The South County (@SouthCountyBar) October 17, 2020
Heineken cup final on Virgin 3 live ! Rainy Saturday on the couch; how bad ?! 😉 Zzzebo ! @SimonZebo https://t.co/vViND31uOn

— The South County (@SouthCountyBar) October 17, 2020
Adam Idah back in the Ireland squad... Watch him make an impression on Wednesday night #opportunity @pure_cork https://t.co/OPzbk1hyn0

— The South County (@SouthCountyBar) October 12, 2020